How to backup a VM in Hyper-V using the Barracuda Backup Service

With the Barracuda Backup Agent v3 or higher install on the host, the Barracuda Backup is able to backup these virtual machines in Windows 2008 Hyper-V by backing up the Child Partition Snapshot (Recommended).

1. Install the Barracuda Backup Agent v3 or higher on to the Windows Hyper-V server.
2. In the Hyper-V console, navigate to the settings on the necessary Virtual Machines and select "Backup (Volume Snapshot)" under integrations settings.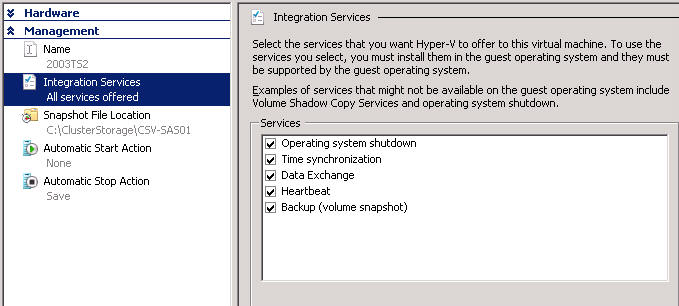 Note: If this is not selected the backup will be a "Saved state" which is not recommended because it temporarily stops the virtual machine to back it up, which can cause issues with restoring virtual SQL or Exchange environments from such a backup.
3. In the web interface for your Backup Service, navigate to Backup > Edit Agent Data Source and ensure that the necessary Virtual Machines are selected for backup.


Post your questions, comments, feedbacks and suggestions
Related Topics